BONUS - free 20x Level Transit (value over $400)

QBL Baulaser GmbH
Made in Germany, Since 1978
NEW Model QL 125
1/2 the weight of the old model (QL 150)
High Power Diode Model
Compact dimensions


The QL 125 laser is designed for use when space is limited. Its short length means the laser can be used in tight bends and narrow manholes. The minimum pipe diameter is 125mm.
Manual alignment
The manual alignment function allows you to direct the laser by remote control onto a reference rod outside the excavation, without later having to use the grade-setting control once more in the manhole.
1. Set the desired grade
2. Direct the laser beam onto the reference rod.
3. Press the alignment button to return the laser beam to the original grade setting - the line is exactly preserved.
Lithium-ion batteries
Lithium-ion batteries ensure that the QL 125 is always ready for action. A second battery (optional) can be charged outside the laser.
Manual cross axis levelling
Cross axis orientation can be done very conveniently using the digital spirit level shown on the display. If the cross axis is exceeded, the QL 125 warns the user with a pulsating beam.


Water & dustproof to IP68 - can be immersed without problems
Fully automatic self-leveling
Large, easy to operate switch panel, and illuminated easy to read LCD-display
Precise, sturdy & extremely handy
Operating range: >200m (dependent on the ambient light conditions)
Self-levelling range: -15% to +45%
Laser spec: laser Class 3R
Adjustment range: direction ± 10°, slope -10% to +40%, adjustment accuracy 0.001% (1mm/100m)
40 hours operating time
Accuracy: ±10" ( ± 5mm/100m )
Temperature range: -20°C to +50°C
Remote control: 100m operating range
INCLUDES: remote control QL125-7, charger LDG 125, standard target plate, 3 sets of legs 4x 150-200-250mm and operation instructions all housed in heavy duty foam padded carry case for safe transportation and storage

QL 125 pipe laser
Only $6,380 inc ($5,800 ex)
free delivery via courier anywhere in NSW/ACT
BONUS - free 20x Level Transit - value over $400
Ideal for alignment of pipe laying trenches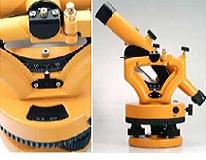 All brass tangent screws
20x magnification
Minimum focus 1.5m
Stadia Ratio 1:100
Transit Scope ± 45°
3 leveling screws
Horizontal angles vernier 10 mins of arc
360° horizontal circle
Includes foam carry case and instructions
Enclosed horizontal circle
Request tax invoice with payment options via email